Now that I am three score and ten, I consider food with a degree of respect. I am conscious of the manner, quantity, quality and time of its consumption; also how long what I consume will stay undigested, and of the consequent level of comfort or discomfort thereafter. In other words, whether I have been sensible and conservative or rash and excessive. My body knows that it does not take much to tip the scale. As small an indulgence as a spoonful of ice-cream is enough to upset the applecart.
Going back to our lives as children, I remember that we had to finish what was served to us. This was sacrosanct. We were from the Services and lived rather simply. Once my father, then Commandant of the National Defence Academy, Khadakvasla, came home for lunch and found me staring at the bhendi on my plate. My mother told him that I did not intend to finish it. He sat down to his lunch, talking about this and that.
When he was done, he washed and came back to sit with me. He said, 'Don't worry. I'll sit with you till you finish. We can chat.'
I was hoping for sympathy. My mother had left. Everyone else too, including the kindest ayamma in the world – Kaushalya, who was willing to finish it for me. I began to cry. He laughed. I was stubborn. He was sympathetic. But he was not going anywhere.
His car and driver were waiting. He said to him, 'Leela bas bhendi kha legi. Phir hum chalenge.'
I felt as though everyone in the NDA now knew that I had not eaten my veggies. I soon did. It was not that difficult either. There must have been four tiny pieces of them. No lecture on the poverty in our country, or any other of life's morals. Just an empathy for your inability to understand the importance of food and norms around food. But a life lesson had been learnt. He left praising me and telling everyone what a wonderful thing I had done.

Leela with her father
Food at home was a happy mix of several generational influences. My maternal grandfather worked in the Railways, stationed for long in Asansol, in the Bardhaman district of West Bengal. My grandmother cared for her six children, and for several other relatives who came and went. The food she prepared was both Bengali and Anglo-Indian – influences both of the region and of life in the Railways. Soups and baked dishes vied with hot curries and rice. Mutton kormas, vindaloos, fish moilee were usually eaten with a generous helping of rice while soups, cutlets and stews were had with bread. My grandmother baked superbly, and being Christian meant that Easter and Christmas delicacies, where every member of the family were either helping, tasting or stealing, were part of the build-up to the big day. Apart from the cake itself, for which the dried fruits – kaju, kishmish, orange peel and the different nuts came from those special shops in Calcutta, Bombay or Delhi, large tins were also filled with kulkuls – both salty and sweet, candy, tarts and marzipan, shaped and colored as fruit. My mother and her siblings would follow their mother into the old kitchen where they found her crunching on something. 'What are you eating, Mama?' Exasperated, she would show them what it was – a grain of dry rice!
Marrying into the Services in 1946, my mother soon learnt to sophisticate her table on a meagre budget. My father was a Lieutenant in the Navy. They lived in Delhi. Women in the Services shared recipes and styles of cooking, family secrets and ways of dressing well on their husbands' small salaries. After India's independence, the small Navy grew, and as their husbands climbed the ladder of seniority, they became more skilled. My mother was simple, but she kept a warm home and a good table. She and my father were posted out to London just after the War. She was only twenty-one years old, but volunteered in a hospital and experienced things that young people of their generation, whether in England or in the Punjab, in India or in Pakistan, were witness to – rations, deprivation, sacrifice and honour.
It was perhaps only when she returned to India a few years later that she became conscious of my father's strong Maharashtrian moorings and the delightful food that her mother-in-law cooked. It was the best of Maharashtrian dishes – regular fare, with a wonderful choice of Jewish-Indian dishes for days that were considered auspicious. She had some catching up to do. Her youngest sister-in-law, Mary, who had also married into the Navy, probably gave her some tips into the heart of Mama, my grandmother's Bene-Israeli Maharashtrian home. Mama, as my grandmother was called by her children and grandchildren alike, cooked like other Maharashtrian women did, sitting on a low chouki just off the floor, and cooking on low angeethis. An abiding memory I have is of the wonderful aroma of her pulao and hara-masala pomfret curry that emanated from her kitchen, while she sat making large, thin rotis aided by a faithful bai, who turned the wheel of her homemade ice-cream-bucket machine, so all twenty-five of us cousins had a scoop of it.
Going to Crawford Market with my mother to have the green mangoes cut to size for pickles and sweet chutneys was something of an excursion. My mother would chatter for hours with the mango-seller. When we moved to Khadakvasla, Pune, in 1958 and the first choosas – small mangoes with a belly full of juicy and hairy pulp – arrived, my mother would strip us kids down to our chuddies, fill an old children's bathtub with the mangoes and water and leave us in the sun to gorge them.
As you can see, I remember the life, not the recipes.

Leela (extreme right) with parents & siblings
By the time I was ten years old, I was living in an ashram on the outskirts of Chennai, growing up on a diet of cold baths under a tap at 5 am, wearing pavadai-chattais, reciting the daily ritual of the Bharata Samaja at 6 am, and, best of all, having pongal and idlis with sambaar and chutney for morning tiffin. I forgot completely about porridge and toast. I grew tall and strong on wholesome vegetarian food and prayers of all religions. I sang bhajans with gusto following my childhood hero – Dr. Padmasini – and loved climbing the tamarind trees in the compound. Why should the boys be the only ones to get that privilege?
In my spare time, I also learnt Bharatanatyam and went to school.
For the next seven years and another seven years when I returned, I was on the same diet of South Indian vegetarian food. I wished we got fruits. I was torn between the choices I had to make – keep up with my sophisticated cousins and the Jones's outside this life in what I would eat and wear, or do what made me immensely happy in the school I was in. Vegetarian or not was perhaps the hardest choice to make. It trailed me for years – with long periods of being vegetarian and then not. Since I am ruled by a stubborn star, I wanted to give up meat by choice, not because my guru advocated it. Can you imagine the extent of my ego?

Leela Samson with her guru, Rukmini Devi Arundale
But while I thrived on the poriyals, saambars, rasams, kozhambus and payasams of my adopted world, no one warned me of the amount of starch I was consuming! For every one of these amazing delicacies required a dollop of rice. But by now, I was pretty deep into the poojas-shlokas-sankalpas and sampradayas of a good South Indian Hindu life, following the rationale behind marked events in the year and the periodic festivals that followed the progression of the moon, including bhajanai at the Marundeeshwara temple every Friday and yatras or excursions as we called them, to all the temple towns in Tamil Nadu, that were also significant for a dancer.
It would have been useful had we also discussed what a dancer should avoid in that pristine diet – white rice, white maida, white aata, white sugar, and white salt, the culprits. Many years later, and ever since then I have adopted alternatives to the staple rice we eat – semiyan, dalia, sooji, poha, millets of several kinds, less-refined aata and a multi-grain bread, if not the delicious sour-dough. Dancers may think of sturdy alternatives within our own traditions. We only have to go back a couple of generations and a few steps down our newly adopted status to know the secrets of wholesome diets. A semi-cooked veggie-fruit dish that serves to replace the salad, with sprouted grain or dry fruits and nuts, with a yoghurt dressing. These along with expensive, but fashionable alternatives like quinoa, can vary the diet and make for interesting meals.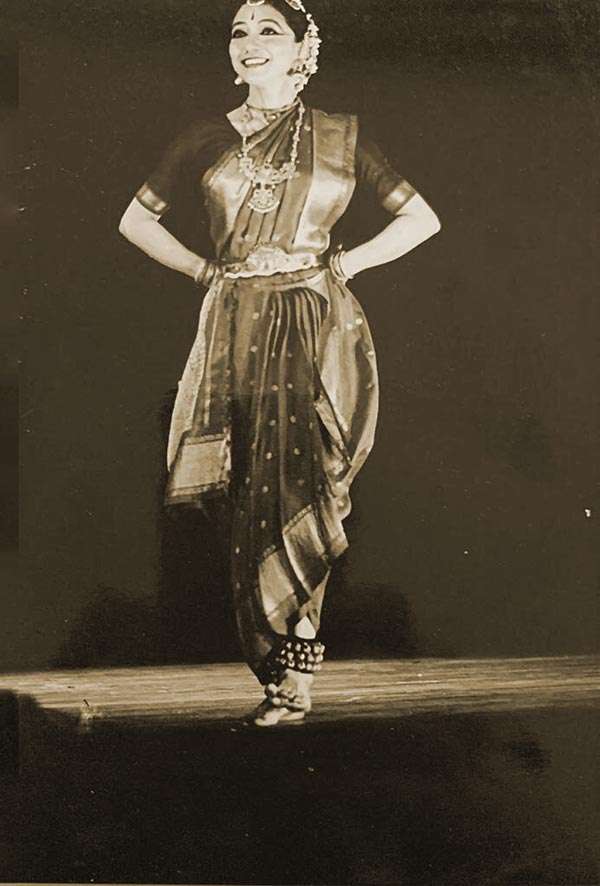 Leela Samson during a recital
My childhood ambition to study medicine and become a surgeon was summarily put aside by an education that, on principle, excluded Biology. I was now to be a dancer, and on the threshold of leaving Kalakshetra at the age of sixteen, when I began understanding that a fit body did not owe only to good genes or a natural inclination for physical sports. One had to work at it. Diligently; over years. No freebies to looking svelte. Either you stopped eating the amazing cuisine that India offered you, or you 'worked out'. The first was not an option. I am a Taurean and I love food. From the age of nine, when I started travelling on trains that ran between Mumbai where my parents lived and Madras where my school was, and later for shows that paid little and when recordings were not an option, I crossed this nation on the railways, eating every specialty that each state offered on its platforms – puri-aaloo on pattaas in Lucknow, angoori or kesar petha at Agra, chai in kullars any and everywhere, but especially at 5 am on cold winter days when you entered Palghat station in Kerala or Bhopal in Madhya Pradesh. Hot idlis and dosas in the South and stuffed parathas and dahi in the North. It was the chill in the air, the steaming hot chai and the stillness within the compartment, when most others were asleep that I remember most.
When I settled in Delhi in 1975, I was a paying guest at Sujan Singh Park and had to eat out. The things you do for your stubborn will to be independent. I did not enjoy that too much. But when I got lodgings at the Bharatiya Kala Kendra next to Kamani, I bought my first utensils and took my first classes in 'bachelor' cooking from Bhushan Lakhandri whose kitchen window opened to mine. He would shout, 'Accha didi, tel mein ab jeera daaliye. Phir chaval, daal aur veggies – jo bhi hain. Paani daaliye pressure cooker bandh kariye. Kholke bas ghee dalke, khaaiye. Mazaa aa jaayega.' At last it was home, and whatever I made was with my own untutored hands. Students from Trinidad, Reunion, Dhaka and faraway China thought my food was better than the canteen rajma-chaaval they got.
It took a while for me to truly understand that that praise amounted to very little.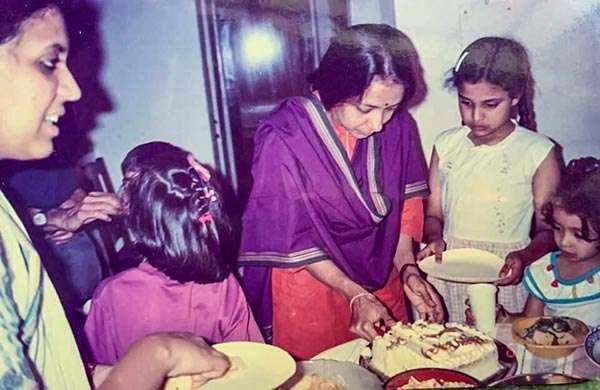 Leela with young disciples
I had wonderful friends who were amazing cooks or had amazing food served. Kamala and Meeto, the Vidyalaya, Aditi and Jaya, Mala and Jugnu, the Sundarams, Purnima, and, last but not the least, Madhavi and Vinay. What tasteful, delicate meals we had over memory-filled conversations – young and old, all piping in with laughter. I cannot remember happier times. Grim conversations too, during the Emergency. Some of us went to the big gurudwara near Goldakhana to pray with our Sikh brothers, but also to have the yummiest parshad after. Anyone who is an artist and has lived in or around Mandi House – the dancers, musicians and actors, painters, potters and sculptors that emerged from the Bharatiya Kala Kendra, Triveni, Kathak Kendra and National School of Drama – know that apart from the underlying paan, rum and drug scene, there was also the chaat of Bengali Market. In those thirty years, I turned into a hardcore chaatiyaan – gol gappas, dahi papdi, chhole bhature, kachoris, tikkas and lassis were often my staple diet in the evenings. Who needed to cook if that was possible?
But what does travelling today as an artist do to your carefully nurtured lifestyle?
It sucks. Hotel food is not good for you. I don't know why, but it isn't. Whether you are a highly-paid star or a young dancer who gets a pittance, whether the accommodation is a room down a busy street or a five-star hotel, nothing can replace the daal-chaval at home. The older you get, the more difficult it gets. Travelling abroad on tour is often the same. A hostess makes it easy on herself by cooking saambar-saadam, pulian-saadam, thaiir-saadam and chips. No veggies at all.

Working in her kitchen
Photo credit – Aarathi Ganesan
Before a show, I like to eat a simple, wholesome lunch without too much oil or chillies. After a concert, a soup is all I can have. One is too full with other emotions to weigh it down further with food. Gandhiji said that every man needs just one mutthi bhar of annam to remain fit. If we listen to our bodies, we can hear them speak to us – 'These things make you uncomfortable. These make you happy. So much is enough. The rest is an indulgence.'

Photo credit – Aarathi Ganesan